Profile of the Representative Director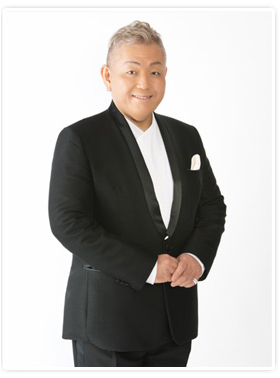 Hiroyuki Ehara
Spiritualist.
Spirit medium.
Spiritual healer.
Psychic researcher.
Opera singer.
Born in Tokyo in 1964.
Former member of the World Healing Federation.
After studying Fine Arts at the Faculty of Human Sciences , Wako University, completed Type II Special Studies in Shinto at Kokugakuin University.
Guest professor at Kibi International University.
Guest professor at Kyushu University of Health and Welfare.
Advisor to the Japan Phytotherapy Association
Hiroyuki Ehara founded the Spiritualism Research Center in 1989. A frequent visitor to the United Kingdom, Professor Ehara received training from outstanding spirit mediums such as Nella Jones, Doris Collins and those at the Harry Edwards Spiritual Healing Sanctuary. With a solid foundation in Spiritualism now in place, Professor Ehara began his counseling work.
At the time, "sittings" or séances, a method of receiving communications from the spirit world, were rare in Japan. Professor Ehara continued individual counseling for the next 15 years (he is now taking a break from these labors).
Professor Ehara is also the founding father of the practice of spirit mediums taking the title "spiritual counselor." In so many ways, Professor Ehara is truly the leading light of Spiritualism in Japan.
The Spiritualism Course, in which Professor Ehara teaches students to shine the light of spiritual truth on their own lives, began when Professor Ehara was in service at a Shinto shrine. In 2017 the Spiritualism Association of Japan founder marked his 30th year of teaching this course.
The year 2000 was a milestone for Professor Ehara, from which point he authored books and series of magazine articles and appeared countless times on television, all with the goal of bringing Spiritualism to popular attention. A highly popular television program, Ehara Hiroyuki Special: Tengoku kara no Tegami (Hiroyuki Ehara Special: Letters from Heaven), was serialized, relating the thoughts of the departed and reassuring viewers that the soul lives on after death forever.
Professor Ehara has published over 100 books. Among the best known of these books are the long-selling Kohun wo Hikiyoseru Spiritual Book (Spiritual Book of Drawing Happiness Toward You) (Mikasa Shobo); Hito wa Naze Umare Ikani Ikirunoka (Why are We Born? How Should We Live?) (Heart Publishing); Inochi ga Abunai! Spiritual Counselor kara no Teigen (Your Life is in Danger! Recommendations from a Spiritual Healer) (Shueisha), Ningen no Kizuna (Human Ties) (Shogakukan), Trauma (Kodansha) and Spiritualism wo Kataru (Speaking of Spiritualism) (Parco Publishing). (All titles are translated from the Japanese; the books are available in Japanese only.) He continues to write to this day, addressing all kinds of concerns people confront in their lives. Professor Ehara's accomplishments are widely noted including registry in the Amazon Hall of Fame, underscoring his success as a pioneer in the promulgation of Spiritualism.
One of the mainstays of Professor Ehara's career as a spiritual counselor is his arena tours. In 2003 he began touring with a series of "spiritual talks." In 2005 Professor Ehara began presenting Spiritual Voice, a sound and light extravaganza complete with stagecraft and music, all planned by the Professor himself to the smallest detail. Professor Ehara's tours have reached many of Japan's best-known venues, including Nippon Budokan in Tokyo and Osakajo Hall in Osaka.
When Professor Ehara closed out his stadium tours with a 2009 show entitled Spiritual Gift: How to Find Happiness (presented at the National Stadium in Yoyogi, Tokyo and Osakajo Hall), he had mobilized a total of over 230,000 spectators.
Professor Ehara has been engaged in a wide range of activities to convey spiritualism in a variety of ways.
In 2011, he established the Spiritualism Association of Japan as a general incorporated foundation and assumed the post of the representative director.
the Spiritualism Association of Japan opened the "The Spiritualism Sanctuary" in Omotesando, Tokyo, and opened the "Spiritual Healing Sanctuary Masakiyoan" in Atami, Shizuoka Prefecture, in 2013.
In 2014, he established the 'Gakusha-sei' system. The 'Gakusha-sei' program offers online lectures for those seeking to practice and learn as spiritualists. He energetically conducts academic lectures on the history of spiritualism, theory, and psychic research.
In addition, the lecture activities include the 'Ehara hiroyuki no hīringutaimu' which conveys spiritualism in an easy-to-understand manner through specific questions and answers from current events and participants, and the 'Ehara hiroyuki jinsei sōdan' which addresses a wide range of human resources issues and analyzes them from a spiritualism perspective.
In 2017, for the "Gakusha-sei" a large-scale Séance 'Reikai tsūshin masakiyorei wa kataru' was held for 4 nights in a row at the "Tōkyō gurōbu-za" to learn the truth about the actual state of the spiritual world and the spirit of communion. In 2018, it was held in "Shin Kōbe orientaru gekijō" for 3 nights in a row.
In the past, we have been carrying out activities to convey spiritualism in various forms, but from now on, we will begin the fourth act of our activities in order to convey it more deeply.